How new greenhouse technology could transform UK food production
Aeroponics Greens | Kitty Logan |
‌Inside a chamber in Bristol, England, scientists are trialing innovative greenhouse technology that could transform how UK farmers grow fruit and vegetables and ensure some foods are available all year round.
Beneath a pink glow of artificial light, tiny seedlings sprout in rows of growing benches, cultivated using a soil-free growing method known as aeroponics. The plants are sprayed with a watery mist, giving them extra oxygen to promote faster growth.
LettUs Grow is the company pioneering this method. Experts developing the technology believe it could change the future of indoor food production, helping to keep salad readily available during critical winter periods. 
"The greenhouse industry has recently been struck by real increases in gas prices, which has really increased their heating bill," says Jack Farmer, Chief Scientific Officer at LettUs Grow. "What we do here with aeroponics is deliver an irrigation system that improves the yield and productivity of a greenhouse, so they get more money for their existing investment."
Trays of pea shoots and basil plants are flourishing in this controlled, pest-free environment. But how does it work? "Basically, what our system does is it takes that body of water, and it vibrates it really quickly, using ultrasonic soundwaves," Farmer explains, "and that turns into an aerosol, into a mist."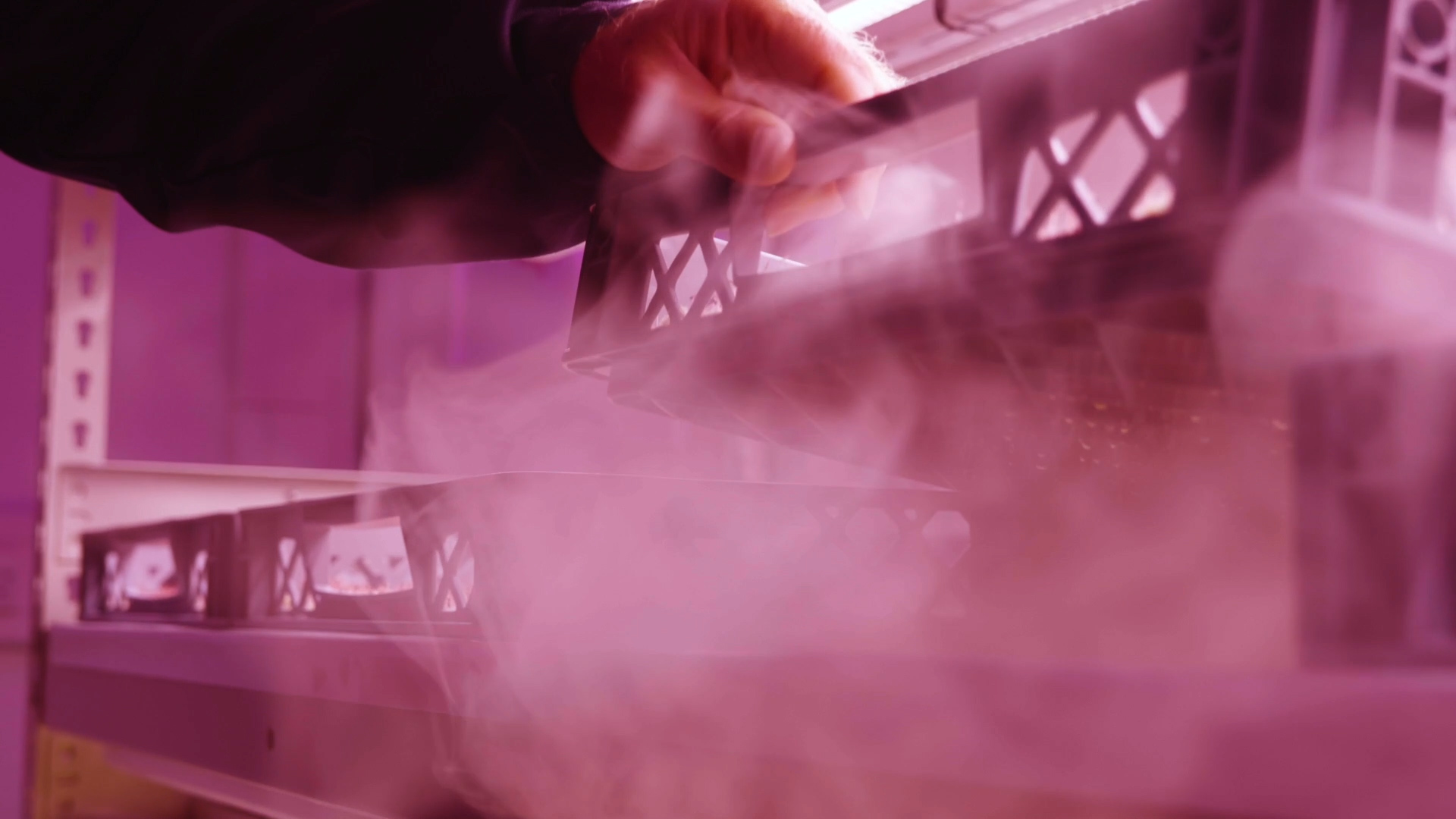 Aeroponics is a new technology that uses ultrasonic soundwaves to vibrate water and turn it into mist. This gives plants extra oxygen to promote faster growth./CGTN.
The system can fit into any existing standard greenhouse, using specially adapted rolling benches for any herb, salad or fruit production.
‌LettUs Grow has teamed up with leading plant scientists at the Norwich-based John Innes Centre to learn more about techniques for growing food indoors. "A lot of crops and plants have been domesticated for many years and have been grown in particular outside conditions," says Bethany Eldridge, a plant scientist at the John Innes Centre.
"But because we can really tailor the growing environment, we're really finding out about the plasticity, the variants in which these plants can grow and how we can really give them what they need at all the developmental stages to ensure they have the optimal taste, flavor, appearance. Instead of just developing new crop varieties to grow in these systems, another approach is to tailor the engineering and the growing environment with the great varieties that we already have that consumers love."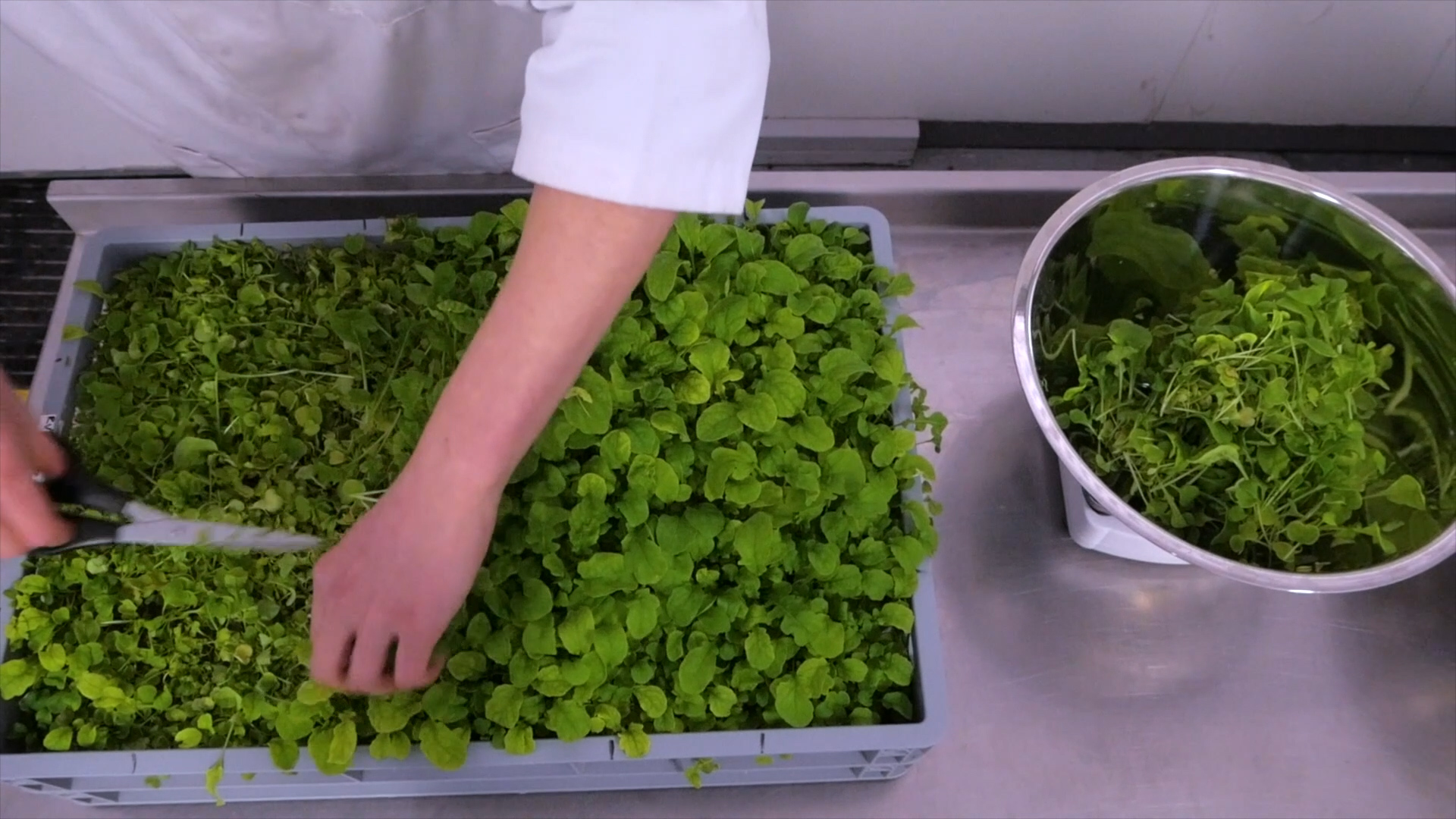 The greenhouse industry has faced economic challenges as a result of rising gas prices. but aeroponics could result in a more cost effective and sustainable indoor food production process for farmers./CGTN.
‌Current food production methods can be wasteful and costly. Researchers say aeroponics could have economic benefits and is a more sustainable process. "A good irrigation system really helps your sustainability as a greenhouse," says Farmer. "The less water you use, the less fertilizer you use, and therefore the less carbon impact you have."
The company has also created a self-contained greenhouse unit to transfer onto farms. Innovative technology like this may soon become part of a changing landscape for agriculture. "There'll be more greenhouses located near to these major points of consumption," he says. So more of us will see them. And in those greenhouses, I'd expect aeroponics to be used in greater fashion because of its greater water efficiency and higher productivity."
‌Those working on the project say their research will open up options for the greenhouse industry to establish in the north of Europe, closer to urban hubs, giving consumers greater options in future and more reliable supplies of food on the shelves as the climate becomes more unpredictable.
Original Article: https://newseu.cgtn.com/news/2023-09-12/How-new-greenhouse-technology-could-transform-UK-food-production-1mZJXZh2Mso/index.html