Hydroponic microgreens business sets opening date for first Lehigh Valley store
Small Scale Microgreens Farming | Ryan Kneller |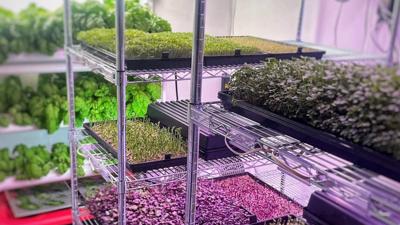 IMAGE: Bangor-based nuHydro Farms, which owner David Derkits has been operating out of his home's basement for the past year, is expanding with its first brick-and-mortar store – set to open by April 1 – at 32 Main St. in downtown Bangor. The hydroponic farm produces a variety of healthful microgreens. nuHydro Farms
BANGOR, Pa. – A new spot for healthful, grown-on-site greens is blooming in the Slate Belt.
David Derkits, owner of Bangor-based nuHydro Farms, is expanding the business to include its first brick-and-mortar store at 32 Main St. in downtown Bangor.
Derkits has been operating the hydroponic farm – producing a variety of microgreens – for about a year out of a grow room in his home's basement.
The new store, roughly triple the size of the business' current space, is set to open 9 a.m. April 1. A ribbon-cutting ceremony with the Slate Belt Chamber of Commerce will be held at 10 a.m.
"We've outgrown our capacity," Derkits said. "We're going to be in the Nazareth Farmers Market every Saturday, starting in May. So, that will be a 50 or 60 tray a week grow. With our other clientele, we wouldn't be able to handle that inside the grow room that we built in the house."
Hydroponics is a type of horticulture that involves growing plants without soil, and Derkits outfitted his grow room to include shelving, water pumps and T5 LED lighting. He uses jute or hemp mats during the seeding process.
Derkits focuses on microgreens, which are young plants that are harvested before they fully mature. No pesticides are used.
"Microgreens are basically baby plants, but they're not sprouts," Derkits explained. "We grow about five different varieties of microgreens, which are extremely healthy additives to salads, sandwiches and snacks."
Derkits, who retired from the Marines in 2013, has been committed to following a healthful diet most of his life.
After working for the Department of State in Iraq for eight years, he decided to pursue a full-time career in hydroponic farming.
At nuHydro Farms, he grows and packages good-for-you options such as broccoli, Genovese basil, romaine lettuce, rainbow radishes, speckled peas and a salad mix, featuring arugula, kale, kohlrabi, cabbage and broccoli.
The business' plants are cut between 7 and 14 days old, when they are nutrient-dense, Derkits said.
"When you cut the plant at that early stage, you're harvesting most of the nutrients that the plant has packed inside to help it grow," Derkits explained. "As it continues to grow, those nutrients get pushed around."
Derkits, who lives a few blocks away from the forthcoming store in Bangor, has been growing nuHydro Farms over the past year by delivering the microgreens to customers' homes and also selling them to local businesses such as Local Mama Catering Company.
At the new store, occupying a long-vacant storefront across from Bangor Public Library, Derkits plans to have an educational area where individuals can sample microgreens, learn how to incorporate microgreens into their diets and read about the many benefits of nuHydro Farms' products.
"Microgreens are still fairly new to a lot of people," Derkits said. "People don't realize what [microgreens] actually can do for them as far as fighting cancers and other diseases."
NuHydro Farms, which has a tagline of "growing greens a better way," will have a "deli-style" setup where customers will be able to purchase microgreens that are cut to order (while supplies last), Derkits said. There also will be pre-packaged items.
"We're also looking at maybe doing exotic house plants and other things that can grow hydroponically," Derkits said.
To stay up-to-date on nuHydro Farm's new store, follow the business' pages on Facebook and Instagram.
Original Article: https://www.wfmz.com/features/eat-sip-shop/hydroponic-microgreens-business-sets-opening-date-for-first-lehigh-valley-store/article_95cf6370-c76f-11ed-a59e-c79535204aca.html